1910 Victoria Land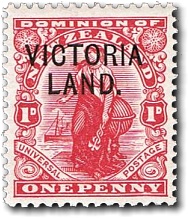 Cat.
Mint Unhinged
Mint Hinged
Fine Used
½d
Edward VII
25a
$2,250.00
$1,620.00
$2,070.00
1d
Dominion
25b
$180.00
$112.50
$252.00
Set of 2 individual stamps
25c
$2,308.50
$1,645.90
$2,205.90
The halfpenny Edward VII and penny Dominion stamps were overprinted 'Victoria Land' in connection with Captain Robert Falcon Scott's ill-fated Terra Nova Antarctic expedition. Only ten sheets were overprinted and fewer than two thousand copies of the stamp were issued to the public. Forgeries of this overprint are known and expert advice is recommended before buying.

Scott led a party of five which reached the South Pole on the 18th of January 1912, only to find that they had been beaten by Roald Amundsen's Norwegian party in an unsought race for the Pole. On their return journey Scott and his four comrades all perished, due to a combination of exhaustion, hunger and extreme cold. Shortly before his death, Scott wrote:

"We took risks, we knew we took them; things have come out against us, and therefore we have no cause for complaint, but bow to the will of Providence, determined still to do our best to the last ... Had we lived, I should have had a tale to tell of the hardihood, endurance, and courage of my companions which would have stirred the heart of every Englishman. These rough notes and our dead bodies must tell the tale, but surely, surely, a great rich country like ours will see that those who are dependent on us are properly provided for."
Bibliography
The Postage Stamps of New Zealand Volume V
By R. J. G Collins FRPSL FRPSNZ
Edited by A. R. Burge FRPSNZ and C. W. Watts FRPSNZ
Published 1967 by The Royal Philatelic Society of New Zealand Incorporated
If you have any questions or comments please contact us - we'd love to hear from you.
This page was last updated on 26 Sep 2023
All content and images copyright © 2008 - 2023 StampsNZ