1969 Captain Cook Bicentenary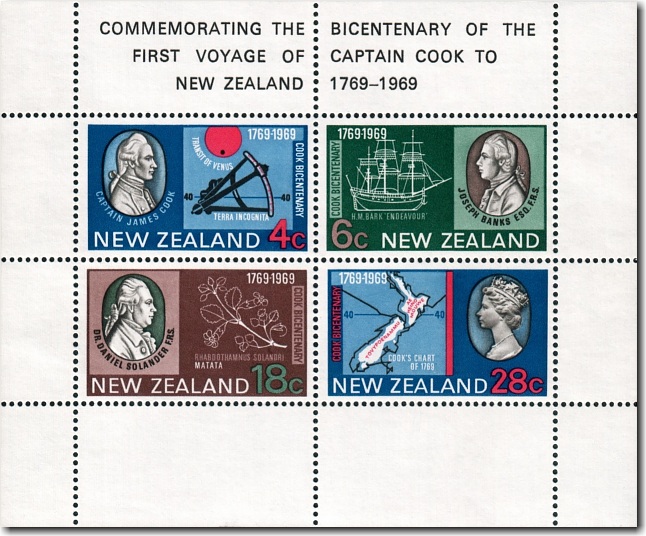 Cat.
Mint Unhinged
Fine Used
4c
Captain James Cook
163a
$0.45
$0.45
6c
Sir Joseph Banks
163b
$2.70
$2.70
18c
Doctor Daniel Solander
163c
$4.50
$4.50
28c
1769 Chart of New Zealand
163d
$8.10
$8.10
Set of 4
163e
$14.95
$14.95
56c
Miniature Sheet with one 4 cent, one 6 cent, one 18 cent and one 28 cent stamp
163f
$29.70
$39.60
… Four Stamps : 4c (163a), 6c (163b), 18c (163c), 28c (163d)
56c
Miniature Sheet with one 4 cent, one 6 cent, one 18 cent and one 28 cent stamp - Tarapex Cachet
163g
$90.00
… Four Stamps : 4c (163a), 6c (163b), 18c (163c), 28c (163d)
First Day Cover - 9 October 1969
163h
$29.70
… Four Stamps : 4c (163a), 6c (163b), 18c (163c), 28c (163d)
Miniature Sheet First Day Cover - 9 October 1969
163i
$49.50
… 56c (163f)
Tarapex Cachet Miniature Sheet First Day Cover - 9 October 1969
163j
$112.50
… 56c (163g)
This issue commemorates the bi-centenary of Captain Cook's first voyage to New Zealand.

In 1766, the Royal Society hired Lieutenant James Cook to observe and record the 1769 transit of Venus across the Sun from the Pacific Ocean with several other observations to be made from different locations. However, a more pragmatic reason was relayed to Cook by the Admiralty - to search the southern Pacific for signs of the unknown southern land.

Other notable members on the expedition were naturalists Sir Joseph Banks, Dr. Herman Spöring, Daniel Solander and astronomer Charles Green.

The voyage departed Plymouth on August 26, 1768 reaching Tahiti, where she remained for the next three months while preparations were made for observing the transit of Venus.

Her ostensible mission now completed, she continued with her "unannounced" tasks of charting the Southern Hemisphere. The Endeavour sailed from Tahiti to New Zealand, where she spent the next six months surveying and mapping the coast making only a few minor errors, while under some harassment from the Māori population. He made the first recorded landing by Europeans in New Zealand at Poverty Bay near Gisborne.

The Captain Cook Bicentenary issue marked two firsts. For the first time in New Zealand, the set appeared in miniature sheet form with the values se-tenant. It is also the first time that embossing was used on a New Zealand stamp to make the head on each stamp stand out.

The four cent stamp has an embossed side portrait of Captain James Cook with the transit of Venus across the Sun and an Octant (reflecting quadrant) - a measuring instrument used primarily in navigation.

The six cent stamp has an embossed portrait of Sir Joseph Banks, the noted naturalist and an outline of HM Bark Endeavour.

The eighteen cent stamp has an embossed portrait of Doctor Daniel Solander, the botanist aboard the 'Endeavour' and an outline of Matata (Rhaboothamnus Solandri), a native plant bearing his name.

The twenty eight cent stamp has an embossed portrait of Queen Elizabeth II and Captain Cooks chart of New Zealand.
Bibliography
The Postage Stamps of New Zealand Volume VI
Edited by D. E. G. Naish FRPSNZ and K. J. McNaught FRPSNZ FRPSL
Publsihed 1975 by The Royal Philatelic Society of New Zealand Incorporated
If you have any questions or comments please contact us - we'd love to hear from you.
This page was last updated on 29 Nov 2023
All content and images copyright © 2008 - 2023 StampsNZ