1987 National Parks Scenic Issue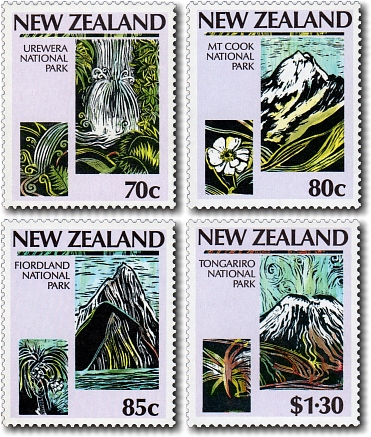 Cat.
Mint Unhinged
Fine Used
70c
Urewera National Park
291a
$1.60
$1.60
80c
Mount Cook National Park
291b
$1.80
$1.80
85c
Fiordland National Park
291c
$1.80
$1.70
$1.30
Tongariro National Park
291d
$2.95
$2.95
Set of 4
291e
$7.75
$7.65
$1.70
Miniature Sheet with one $1.30 stamp (Surcharged to support exhibition) 1990 World Philatelic Exhibition Auckland
291f
$5.40
$5.40
… $1.30 (291d)
First Day Cover - 17 June 1987
291h
$5.10
… Four Stamps : 70c (291a), 80c (291b), 85c (291c), $1.30 (291d)
Silk First Day Cover - 17 June 1987
291i
$18.00
… Four Stamps : 70c (291a), 80c (291b), 85c (291c), $1.30 (291d)
Miniature Sheet First Day Cover - 17 June 1987
291j
$4.25
… $1.70 (291f)
Silk Miniature Sheet First Day Cover - 17 June 1987
291k
$9.00
… $1.70 (291f)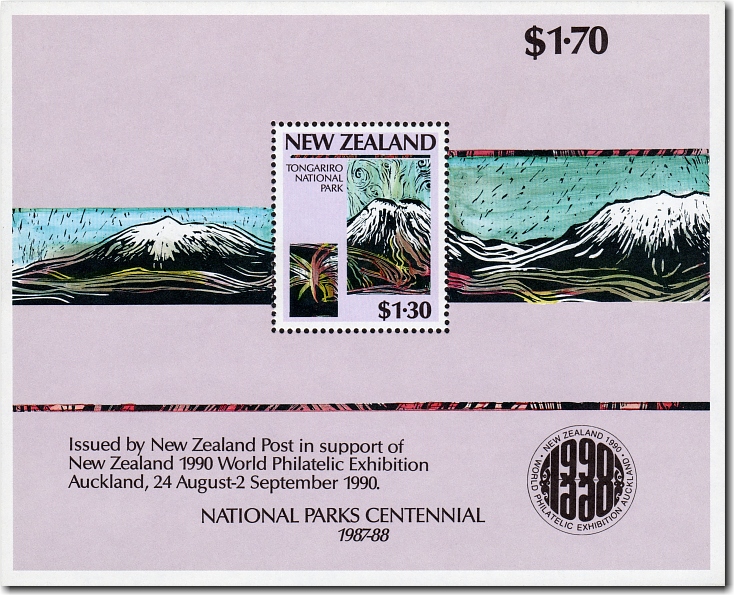 A miniature sheet which included the $1.30 Tongariro National Park stamp (287d) was issued with a surcharge to support the New Zealand 1990 World Philatelic Exhibition.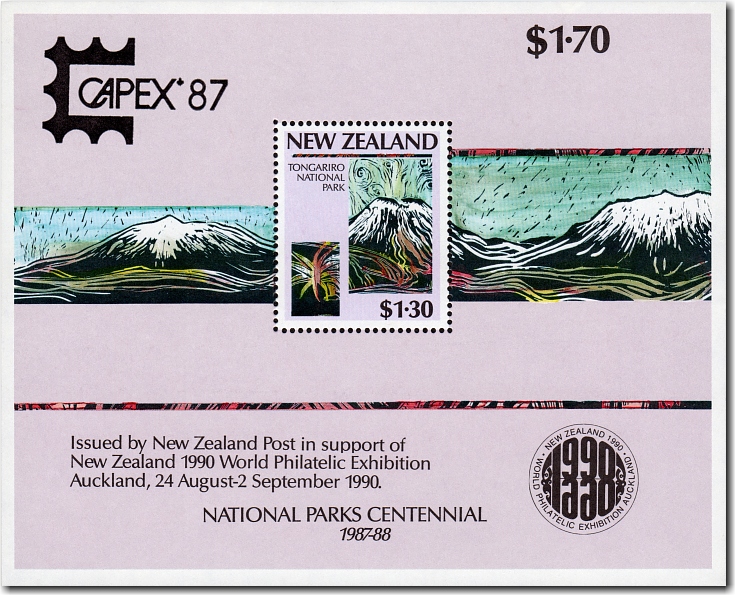 The 1987 National Parks Scenic Issue and the 1987 Royal New Zealand Airforce miniature sheets were issued with Capex'87 overprints to commemorate New Zealand Post's attendance at Capex'87 - the World Philatelic Exhibition held in Toronto, Canada from June 13th to the 21st, 1987. Those miniature sheets are listed under the 1987 Capex Exhibition.
If you have any questions or comments please contact us - we'd love to hear from you.
Wishing you a Merry Christmas and a Happy and Prosperous New Year
This page was last updated on 09 Dec 2023
All content and images copyright © 2008 - 2023 StampsNZ