1990 New Zealand World Stamp Exhibition Native Orchids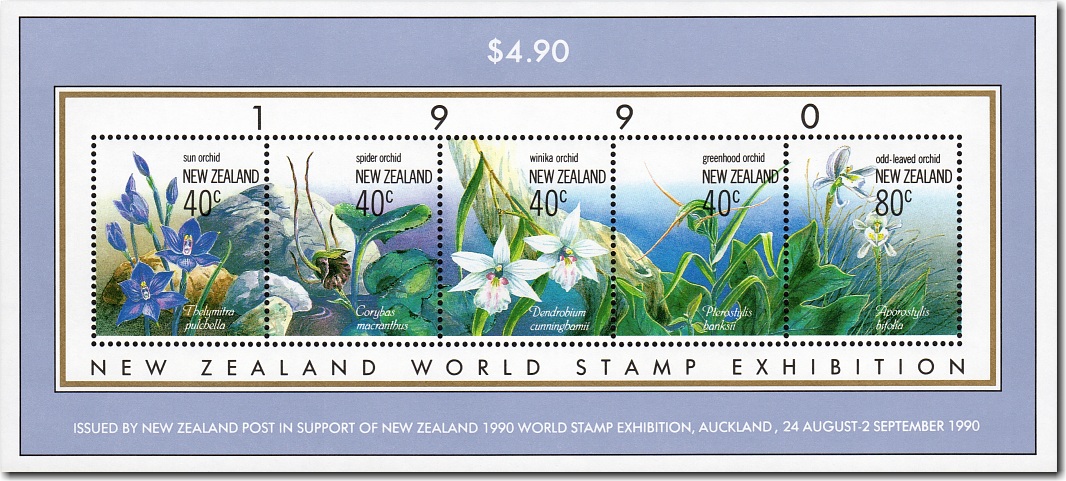 Cat.
Mint Unhinged
Fine Used
40c
Sun Orchid
324a
$2.70
$2.70
40c
Spider Orchid
324b
$2.70
$2.70
40c
Winika Orchid
324c
$2.70
$2.70
40c
Greenhood Orchid
324d
$2.70
$2.70
80c
Odd-leaved Orchid
324e
$2.70
$2.70
Set of 5
324f
$12.85
$12.85
$4.90
Exhibition Miniature Sheet with four 40 cent and one 80 cent stamp (Surcharged to support exhibition) New Zealand 1990 World Stamp Exhibition Auckland
324g
$13.50
$13.50
… Five Stamps : 40c (324a), 40c (324b), 40c (324c), 40c (324d), 80c (324e)
$4.90
Imperforate Exhibition Miniature Sheet (Surcharged to support exhibition) New Zealand 1990 World Stamp Exhibition Auckland
324h
$90.00
Miniature Sheet First Day Cover - 18 April 1990
324i
$10.20
… $4.90 (324g)
Imperforate Miniature Sheet First Day Cover - 23 July 1990
324j
$180.00
… $4.90 (324h)
The miniature sheet was issued on the 18th of April 1990 with a $2.50 surcharge added to assist the staging of the 1990 World Stamp Exhibition. The sheet features five orchids - all native to New Zealand.

An additional 12,000 imperforate sheets were printed which could only be obtained by purchasing a $25 season ticket to the exhibition. These sheets were officially issued on the 23rd of July although some packs were sold at the annual philatelic exhibition in Palmerston North on the 2nd of July.
Bibliography
The Postage Stamps of New Zealand Volume VIII
Edited by B. G. Vincent FRPSNZ
Published 1998 by The Royal Philatelic Society of New Zealand Incorporated (ISSN 0-9597883-1-X)
Pages 211 - 212, 255 - 256
If you have any questions or comments please contact us - we'd love to hear from you.
Wishing you a Merry Christmas and a Happy and Prosperous New Year
This page was last updated on 09 Dec 2023
All content and images copyright © 2008 - 2023 StampsNZ