1995 America's Cup - Victory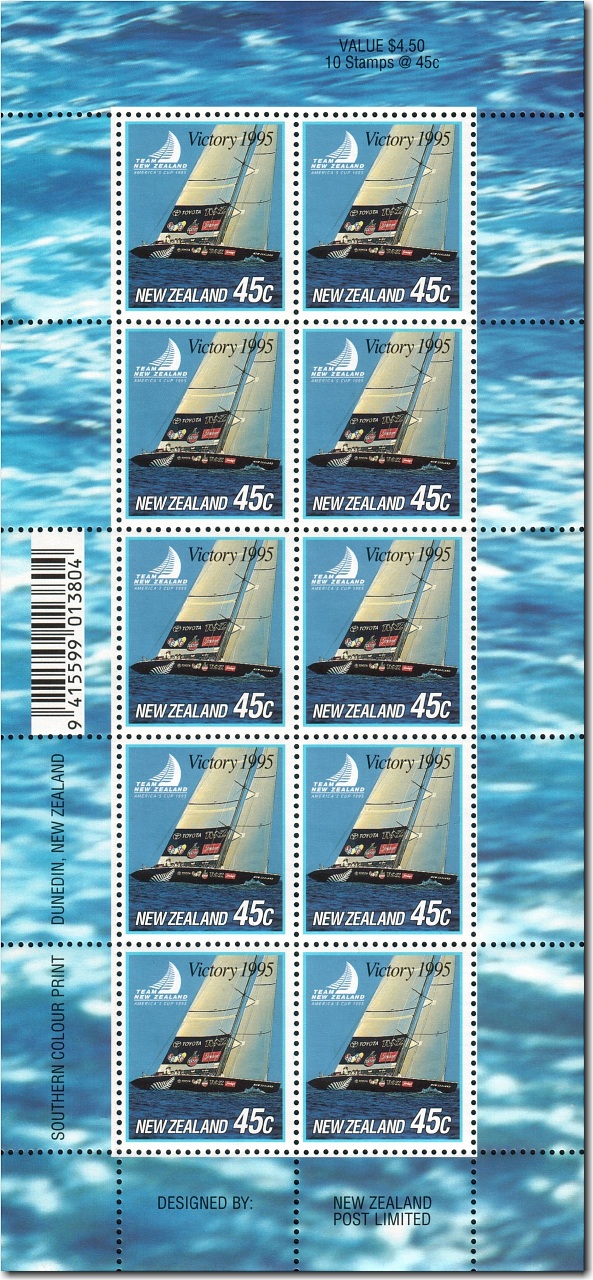 Cat.
Mint Unhinged
Fine Used
45c
America's Cup
399a
$0.90
$0.90
$4.50
Prestige Sheet with ten 45 cent stamps
399b
$9.00
$9.00
… Ten Stamps : 45c (399a x 10)
$4.50
Limited Edition Prestige Sheet with ten 45 cent stamps with gold foil on the selvedge (10,000 numbered copies) from the 'Victory 1995' stamp pack
399c
$135.00
… Ten Stamps : 45c (399a x 10)
First Day Cover - 16 May 1995
399d
$4.25
… 45c (399a)
The existence of this stamp was only announced to collectors six days before it was released. The letter stated that the stamp would only be sold if the New Zealand boat won and that collectors would be able to order copies.

What caught NZ Post off-guard was the ease with which New Zealand's yacht 'Black Magic' won the races. When the stamp was announced, New Zealand had won the first two races but it was still uncertain who the overall winner would be after nine races. By the fifth race though, New Zealand had won all four preceding races, and only needed one more win to claim the cup. They of course won, and celebrations echoed all around the country, with the Governor-General saying that this was "New Zealand's greatest day since Everest."

Television news coverage that day reported that a special commemorative stamp would be issued and the next day Post Shops were over-run with customers. The stamp was not available until the day after and the whole issue sold out that day except for a few stragglers that were bought up the day after.

Although two million stamps had been printed, the stamps were sold in sheets limiting the number of sales to two hundred thousand. Dealer prices of five to six times face value were reported initially, but prices quickly settled down as public interest waned.
Bibliography
The Postage Stamps of New Zealand Volume VIII
Edited by B. G. Vincent FRPSNZ
Published 1998 by The Royal Philatelic Society of New Zealand Incorporated (ISSN 0-9597883-1-X)
If you have any questions or comments please contact us - we'd love to hear from you.
This page was last updated on 26 Sep 2023
All content and images copyright © 2008 - 2023 StampsNZ