2008 The A to Z of New Zealand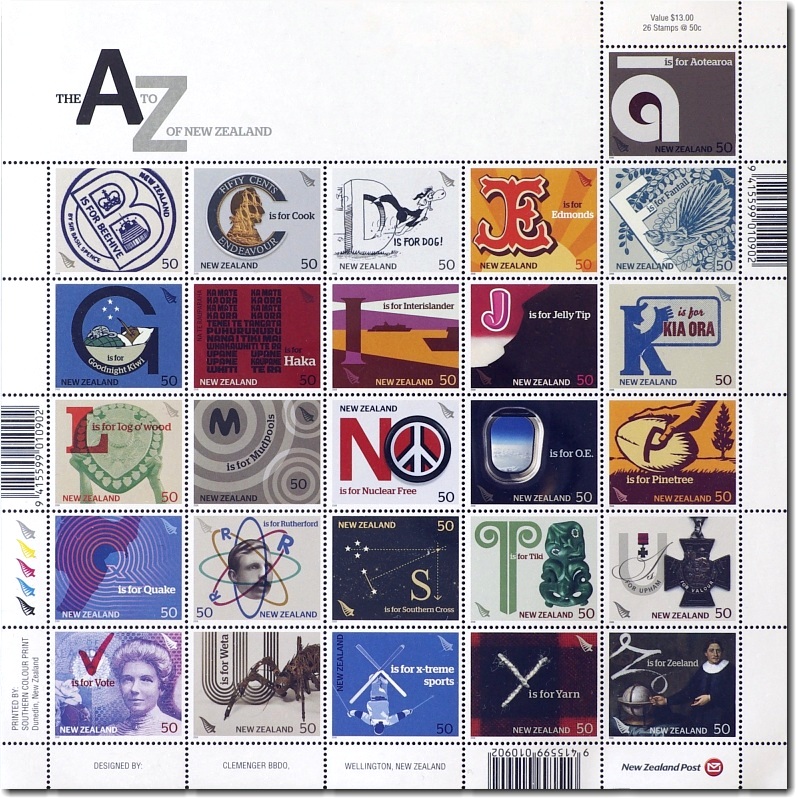 Cat.
Mint Unhinged
Fine Used
50c
A is for Aotearoa
656a
$0.90
$1.20
50c
B is for Beehive
656b
$0.90
$1.20
50c
C is for Cook
656c
$0.90
$1.20
50c
D is for Dog
656d
$0.90
$1.20
50c
E is for Edmonds
656e
$0.90
$1.20
50c
F is for Fantail
656f
$0.90
$1.20
50c
G is for Goodnight Kiwi
656g
$0.90
$1.20
50c
H is for Haka
656h
$0.90
$1.20
50c
I is for Interislander
656i
$0.90
$1.20
50c
J is for Jelly Tip Ice Cream
656j
$0.90
$1.20
50c
K is for Kia Ora
656k
$0.90
$10.20
50c
L is for Log o' Wood
656l
$0.90
$1.20
50c
M is for Mudpools
656m
$0.90
$1.20
50c
N is for Nuclear Free
656n
$0.90
$1.20
50c
O is for Overseas Experience
656o
$0.90
$1.20
50c
P is for Pinetree
656p
$0.90
$1.20
50c
Q is for Quake
656q
$0.90
$1.20
50c
R is for Rutherford
656r
$0.90
$1.20
50c
S is for Southern Cross
656s
$0.90
$1.20
50c
T is for Tiki
656t
$0.90
$1.20
50c
U is for Upham
656u
$0.90
$1.20
50c
V is for Vote
656v
$0.90
$1.20
50c
W is for Weta
656w
$0.90
$1.20
50c
X is for Extreme Sports
656x
$0.90
$1.20
50c
Y is for Yarn
656y
$0.90
$1.20
50c
Z is for Zeeland
656z
$0.90
$1.20
Set of 26
656za
$22.25
$38.20
$13
Prestige Sheet with twenty six 50 cent stamps
656zb
$23.40
$31.50
First Day Cover - 6 August 2008
656zc
$12.60
... 50c (656a), 50c (656b), 50c (656c), 50c (656d), 50c (656e), 50c (656f)
First Day Cover - 6 August 2008
656zd
$12.60
... 50c (656g), 50c (656h), 50c (656i), 50c (656j), 50c (656k), 50c (656l), 50c (656m), 50c (656n), 50c (656o), 50c (656p)
First Day Cover - 6 August 2008
656ze
$12.60
... 50c (656q), 50c (656r), 50c (656s), 50c (656t), 50c (656u), 50c (656v), 50c (656w), 50c (656x), 50c (656y), 50c (656z)
This issue comprises a sheetlet of 26 fifty cent stamps celebrating New Zealand icons and traditions. The stamps were sold individually at some New Zealand Post outlets.

A is for Aotearoa: the most widely known and accepted Maori name for New Zealand.

B is for Beehive: the common name for the Executive Wing of the New Zealand Parliament Buildings.

C is for Cook: James Cook was an English explorer, navigator and cartographer who recorded the first circumnavigation of New Zealand.

D is for Dog: the working sheep-dog from Murray Ball's Footrot Flats cartoon strip.

E is for Edmonds: The Edmonds Cookbook is the quintessential guide to traditional New Zealand cuisine which is now recognised as a Kiwi icon.

F is for Fantail: highly active and agile birds which undertake highly aerobatic and intricate looping flights.

G is for Goodnight Kiwi: a character in an animated short film which played to signal the end of nightly broadcasts on Television New Zealand.

H is for Haka: For over 100 years the All Blacks have had a tradition of performing a haka before games

I is for Interislander: A ferry service across Cook Strait between the North Island and South Island.

J is for Jelly Tip: Very popular icecream first produced in the 1950s.

K is for Kia Ora: a Maori language greeting which has entered New Zealand vocabulary - it means "be well/healthy" and is often used as an informal "hi"

L is for Log o' Wood: The Ranfurly Shield is the most prestigious trophy in New Zealand's domestic rugby union competition.

M is for Mudpools: synonymous with the Geothermal regions of the North Island, particularly around Rotorua.

N is for Nuclear Free: In 1987 a law was passed to "establish a Nuclear Free Zone in New Zealand to promote and encourage an active and effective contribution to the essential process of disarmament and international arms control."

O is for O.E.: an extended overseas working holiday - sometimes referred to as "The big OE" - typically at least one year and often far longer.

P is for Pinetree: Colin Meads nickname - a former New Zealand rugby union footballer who played 55 test matches as an All Black from 1957 to 1971 - named Player of the Century in 1999.

Q is for Quake: New Zealand is on the Pacific Ring of Fire - an area of frequent earthquakes and volcanic eruptions that is home to over 75% of the world's volcanoes.

R is for Rutherford: New Zealand physicist who became known as the father of nuclear physics.

S is for Southern Cross: the constellation appears on New Zealand's flag.

T is for Tiki: incorrectly named Maori neck pendants - a tourist staple.

U is for Upham: Captain Charles Upham was a New Zealand soldier who was the only person to earn the Victoria Cross for extreme bravery twice during the Second World War:

V is for Vote: New Zealand was the first major nation to grant universal suffrage to women (however, women were not eligible to stand for parliament until 1919).

W is for Weta: among the largest and heaviest insects in the world. Weta Workshops created many of the special effects for Peter Jackson's Lord of the Rings movies.

X is for x-treme sports: a variety of extreme sports such as bungy jumping are available in New Zealand.

Y is for Yarn: Māori traditional textiles were woven from a number of plants, including harakeke, wharariki, pingao, kiekie and toetoe.

Z is for Zeeland: The islands of Aotearoa were named Nieuw Zeeland by Dutch navigator Abel Tasman.
If you have any questions or comments please contact us - we'd love to hear from you.
This page was last updated on 21 Sep 2020
All content and images copyright © 2008 - 2020 StampsNZ