2008 Taipei 21st Asian International Stamp Exhibition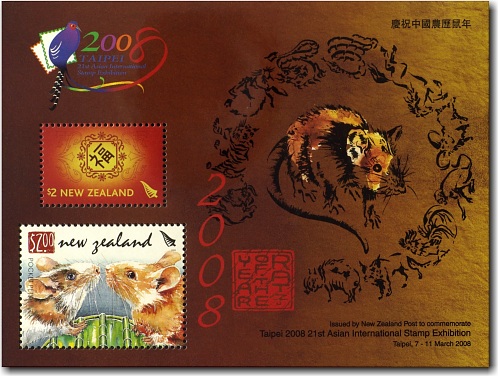 Cat.
Mint Unhinged
Fine Used
$4
Exhibition Miniature Sheet with two $2 stamps
649a
$7.20
$7.20
… Two Stamps : 2007 Personalised Stamps $2 (642j); 2008 Year Of The Rat $2 (647d)
Miniature Sheet First Day Cover - 7 March 2008
649b
$8.10
… $4 (649a)
The 21st Asian International Stamp Exhibition (Taipei 2008 Stamp Exhibition) was held at the Taipei World Trade Centre between March the 7th and 11th, 2008. The exhibition brought together philatelists from member countries of the Federation of Inter-Asia Philately (FIAP).

FIAP was established in 1974 as a non-profit and non-political organization and has 30 member countries including: Bangladesh, Hong Kong, India, Indonesia, Japan, Korea, Macao, Malaysia, Mongolia, Nepal, Pakistan, the Philippines, Singapore, Thailand, Taiwan, Vietnam, Australia, New Zealand, Bahrain, Iran, Kuwait, Qatar, South Africa and the United Arab Emirates (UAE).
If you have any questions or comments please contact us - we'd love to hear from you.
Wishing you a Merry Christmas and a Happy and Prosperous New Year
This page was last updated on 04 Dec 2023
All content and images copyright © 2008 - 2023 StampsNZ