1955 Stamp Centenary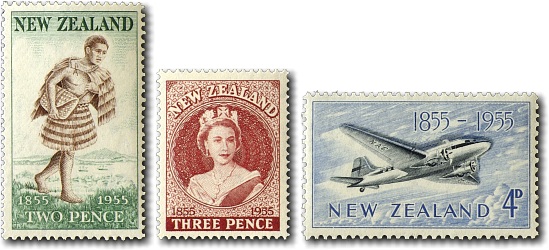 Cat.
Mint Unhinged
Mint Hinged
Fine Used
2d
Maori Mail Runner / Carrier
96a
$0.55
$0.45
$0.45
3d
Full Face Queen Elizabeth II
96b
$0.55
$0.45
$0.45
4d
DC3 Airmail Aeroplane
96c
$0.55
$0.45
$0.90
Set of 3
96d
$1.55
$1.30
$1.70
First Day Cover - 18 July 1955
96e
$4.50
… Three Stamps : 2d (96a), 3d (96b), 4d (96c)
This issue commemorates the 100th anniversary of New Zealand's first pre-paid postage stamps.

The 2d stamp shows a Maori mail runner - the first means of overland mail delivery in New Zealand. Mail runners often had to cross difficult terrain and swim treacherous rivers to deliver the mail.

The 4d stamp shows the extent of progress in the first 100 years with a DC3 with the National Airways Corporation insignia alluding to airmail delivery.

The 3d stamp echoes the background of the first stamps of 1855 with Queen Elizabeth's coronation portrait replacing the Chalon portrait of Queen Victoria in her coronation robes.

The stamps were issued on the 18th of July 1955 - 100 years to the day after the issue of New Zealand's first stamps.
Bibliography
The Postage Stamps of New Zealand Volume IV
Edited by R. J. G. Collins FRPSNZ and C.W. Watts FRPSNZ
Published 1960 by The Royal Philatelic Society of New Zealand Incorporated
If you have any questions or comments please contact us - we'd love to hear from you.
Wishing you a Merry Christmas and a Happy and Prosperous New Year
This page was last updated on 04 Dec 2023
All content and images copyright © 2008 - 2023 StampsNZ