1956 Health

Cat.
Mint Unhinged
Mint Hinged
Fine Used
1½d
Children Playing Under Apple Tree - Brown (Simplified)
100a
$0.55
$0.45
$0.55
(i) Purple Sepia Brown
100a1
$0.60
$0.55
$0.65
(ii) Dark Sepia Brown
100a2
$8.10
$7.20
$8.10
2d
Children Playing Under Apple Tree - Green
100b
$0.55
$0.45
$0.55
3d
Children Playing Under Apple Tree - Red
100c
$0.55
$0.45
$0.55
Set of 3
100d
$1.55
$1.30
$1.55
First Day Cover - 24 September 1956
100e
$3.60
… Three Stamps : 1½d (100a), 2d (100b), 3d (100c)
After a design competition failed to produce a suitable stamp image for the 1956 Health issue, a photograph from The Auckland Weekly News by J F Louden of his grandchildren Graeme and Peter Wilson playing in an orchard in 1946 was chosen for the stamps. The design was changed to set the scene in a garden.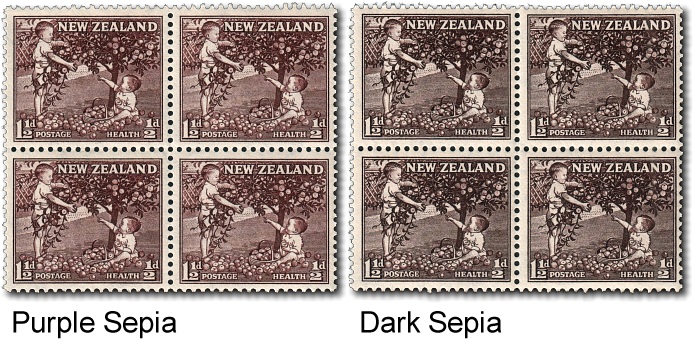 Two easily distinguished shades of the 1½d stamp exist with the dark sepia brown variety considerably rarer.
Bibliography
The Postage Stamps of New Zealand Volume IV
Edited by R. J. G. Collins FRPSNZ and C.W. Watts FRPSNZ
Published 1960 by The Royal Philatelic Society of New Zealand Incorporated
If you have any questions or comments please contact us - we'd love to hear from you.
Wishing you a Merry Christmas and a Happy and Prosperous New Year
This page was last updated on 09 Dec 2023
All content and images copyright © 2008 - 2023 StampsNZ