1971 Christmas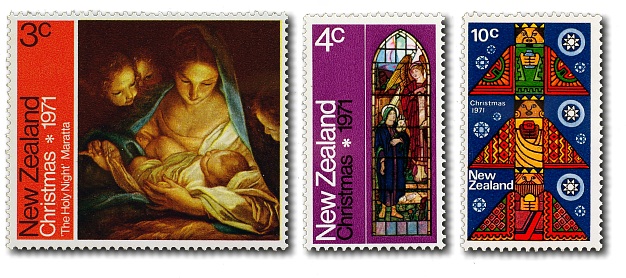 Cat.
Mint Unhinged
Fine Used
3c
'The Holy Night (La Santa Notte)' by Carlo Maratta
179a
$0.45
$0.45
4c
Stained Glass Window from St Luke's, Havelock North
179b
$0.45
$0.45
10c
Three Kings
179c
$0.90
$0.90
Set of 3
179d
$1.70
$1.70
First Day Cover - 6 October 1971
179e
$4.50
… Three Stamps : 3c (179a), 4c (179b), 10c (179c)
The 1971 Christmas Issue included three stamps.

The 3 cent stamp featured 'The Holy Night (La Santa Notte)' by Carlo Maratta. At 47mm x 40mm, this was the largest Christmas stamp issued.

The 4 cent stamp features a stained glass window from St Luke's Anglican Church, Havelock North, Hawke's Bay. The church was consecrated in 1874 and escaped relatively unscathed in the 1931 earthquake.

The 10 cent stamp was designed by E Hunter and contains a graphic symbolising the three kings.
Bibliography
The Postage Stamps of New Zealand Volume VI
Edited by D. E. G. Naish FRPSNZ and K. J. McNaught FRPSNZ FRPSL
Publsihed 1975 by The Royal Philatelic Society of New Zealand Incorporated
If you have any questions or comments please contact us - we'd love to hear from you.
Wishing you a Merry Christmas and a Happy and Prosperous New Year
This page was last updated on 01 Dec 2023
All content and images copyright © 2008 - 2023 StampsNZ