1972 Christmas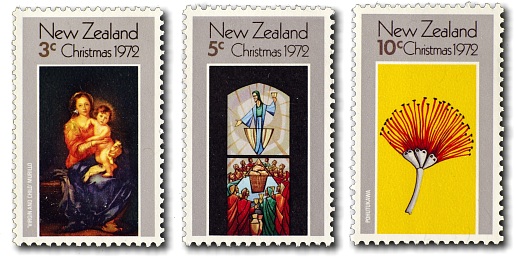 Cat.
Mint Unhinged
Fine Used
3c
'Virgin and Child' by Murillo
187a
$0.45
$0.45
5c
Stained glass window from St John's in Levin
187b
$0.45
$0.45
10c
Pohutukawa Blossom - Christmas Tree
187c
$1.80
$1.80
Set of 3
187d
$2.55
$2.55
First Day Cover - 4 October 1972
187e
$4.50
… Three Stamps : 3c (187a), 5c (187b), 10c (187c)
The 3 cent stamp features a reproduction of 'Virgin and Child' by the Spanish artist Bartolome Esteban Murillo.

The 5 cent stamp features a modern stained glass window from Saint John's Methodist Church in Levin, built in 1936.

The 10 cent stamp has the crimson flower of the Pohutukawa tree. Pohutukawa tree blossom is an established part of the New Zealand Christmas tradition. In 1833 Henry Williams described holding a service under a 'wide spreading Pohutukawa'. By 1867, settlers were calling the Pohutakawa the Christmas tree: "The pohutukawa around Christmas are full of charming blossom and the settler decorates his church and dwellings with its lovely branches." Other settlers described it as 'Antipodean holly'.
Bibliography
The Postage Stamps of New Zealand Volume VI
Edited by D. E. G. Naish FRPSNZ and K. J. McNaught FRPSNZ FRPSL
Publsihed 1975 by The Royal Philatelic Society of New Zealand Incorporated
If you have any questions or comments please contact us - we'd love to hear from you.
This page was last updated on 29 Nov 2023
All content and images copyright © 2008 - 2023 StampsNZ