1974 Health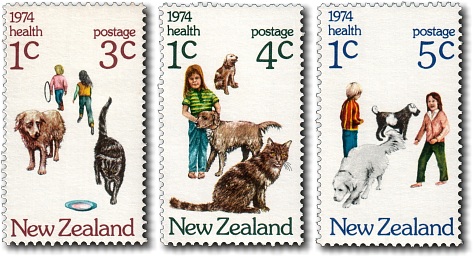 Cat.
Mint Unhinged
Fine Used
3c
Children With Pets - a Cat and Dog
199a
$0.45
$0.45
4c
Children With Pets - a Cat and Two Dogs
199b
$0.45
$0.45
5c
Children With Pets - Two Dogs
199c
$1.35
$1.35
Set of 3 individual stamps
199d
$2.15
$2.15
50c
Miniature Sheet with ten 4 cent stamps (Surcharged for health)
199e
$99.00
$99.00
… Ten Stamps : 4c (199b x 10)
First Day Cover - 7 August 1974
199f
$6.80
… 3c (199a), 4c (199b), 5c (199c)
The 1974 health stamps featured children and their pet cats and dogs. The relaxed composition of elements on the stamps reflecting the relaxed and playful relationship between pet and owner. The concept of the stamps was to highlight the health benefits of owning and playing with pets.
Bibliography
The Postage Stamps of New Zealand Volume VI
Edited by D. E. G. Naish FRPSNZ and K. J. McNaught FRPSNZ FRPSL
Publsihed 1975 by The Royal Philatelic Society of New Zealand Incorporated
If you have any questions or comments please contact us - we'd love to hear from you.
This page was last updated on 30 Sep 2023
All content and images copyright © 2008 - 2023 StampsNZ