1974 New Zealand Day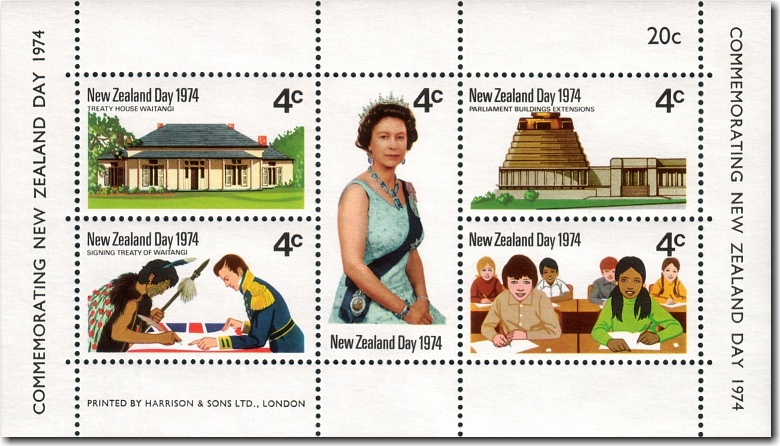 Cat.
Mint Unhinged
Fine Used
4c
Treaty House at Waitangi
196a
$0.65
$0.45
4c
Signing the Treaty of Waitangi
196b
$0.65
$0.45
4c
Her Majesty Queen Elizabeth II
196c
$0.65
$0.45
4c
Parliament Buildings and the Beehive
196d
$0.65
$0.45
4c
Maori and Pakeha Children Studying Together
196e
$0.65
$0.45
Set of 5
196f
$3.10
$2.15
20c
Miniature Sheet with five 4 cent stamps
196g
$2.70
$2.70
… Five Stamps : 4c (196a), 4c (196b), 4c (196c), 4c (196d), 4c (196e)
Miniature Sheet First Day Cover - 5 February 1974
196h
$4.50
… 20c (196g)
After the 1972 election of Norman Kirk's Labour government, it was announced that from 1974 Waitangi Day would be a national holiday to be known as New Zealand Day. The New Zealand Day Act was passed in 1973.

The change signified that New Zealand was ready to move towards a broader concept of nationhood. At the 1974 celebrations, the New Zealand Flag was flown instead of the the Union Flag for the first time at Waitangi and a replica of the flag of the United Tribes of New Zealand was also flown.

When National regained power in 1975, New Zealand Day was renamed Waitangi Day because Prime Minister Robert Muldoon did not like the name "New Zealand Day" although many Maori felt the new name debased the Treaty of Waitangi.
Bibliography
The Postage Stamps of New Zealand Volume VI
Edited by D. E. G. Naish FRPSNZ and K. J. McNaught FRPSNZ FRPSL
Publsihed 1975 by The Royal Philatelic Society of New Zealand Incorporated
If you have any questions or comments please contact us - we'd love to hear from you.
Wishing you a Merry Christmas and a Happy and Prosperous New Year
This page was last updated on 01 Dec 2023
All content and images copyright © 2008 - 2023 StampsNZ