1990 Health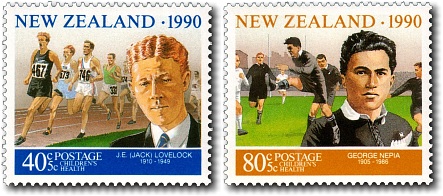 Cat.
Mint Unhinged
Fine Used
40c
Jack Lovelock / Olympic Gold Winner, Rhodes Scholar and Medical Doctor
328a
$0.80
$0.80
80c
George Nepia / All Black
328b
$1.55
$1.55
Set of 2 individual stamps
328c
$2.25
$2.25
$2.60
Miniature Sheet with two 40 cent and two 80 cent stamps (Surcharged for health)
328d
$4.95
$5.40
… Four Stamps : 40c (328a x 2), 80c (328b x 2)
First Day Cover - 25 July 1990
328e
$4.25
… 40c (328a), 80c (328b)
Miniature Sheet First Day Cover - 25 July 1990
328f
$18.00
… $2.60 (328d)
The 1990 Health stamps featured two sporting heroes from the 1920s and 1930s - around the time of the first New Zealand health stamps.

John "Jack" Edward Lovelock (5 January 1910 - 28 December 1949) was born in Crushington (near Reefton) and showed a talent for sports while at Timaru Boys' High School. By 1933 - already holder of the British Empire record for the mile - he set a new world record of 4:07.6. The highlight of his career came in 1936 when he won the gold medal in the 1500 metres at the Berlin Olympics games, setting a new world record in the final (3:47.8). In that race he beat Glenn Cunningham and both athletes broke the previous world record in that event.

Jack studied medicine at the University of Otago and became a Rhodes Scholar at Exeter College, Oxford. He graduated as a medical practitioner and in 1946 was appointed to the staff of Manhattan Hospital, New York. He died tragically in 1949 when he collapsed in front of a New York subway train at the Church Avenue station, having telephoned his wife from work saying he was coming home early because he wasn't feeling well.

George Nepia (25 April 1905 - 27 June 1986) was a Maori rugby union and rugby league player. He was an exceptional full-back and one of the most famous Maori rugby players, playing 46 matches for the All Blacks and scoring a total of 99 points. He was inducted into the New Zealand Sports Hall of Fame in 1990 and has been described as "New Zealand rugby's first superstar".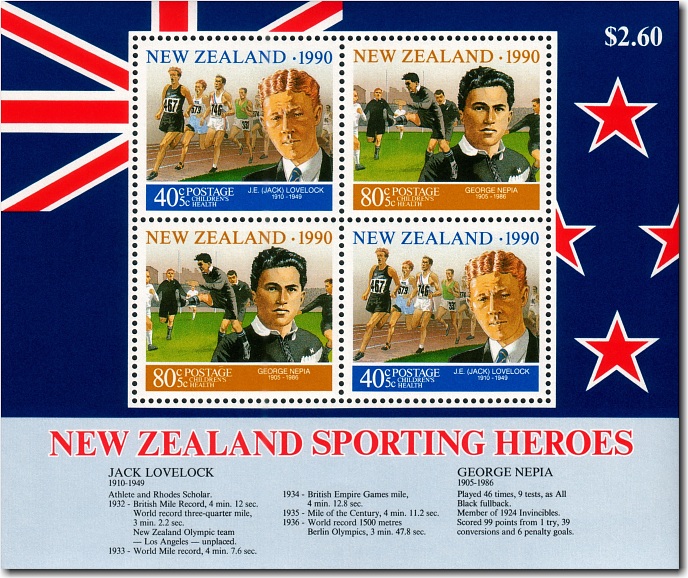 A miniature sheet featuring two copies of each stamp was issued.
Bibliography
The Postage Stamps of New Zealand Volume VIII
Edited by B. G. Vincent FRPSNZ
Published 1998 by The Royal Philatelic Society of New Zealand Incorporated (ISSN 0-9597883-1-X)
If you have any questions or comments please contact us - we'd love to hear from you.
This page was last updated on 26 Sep 2023
All content and images copyright © 2008 - 2023 StampsNZ