1996 Health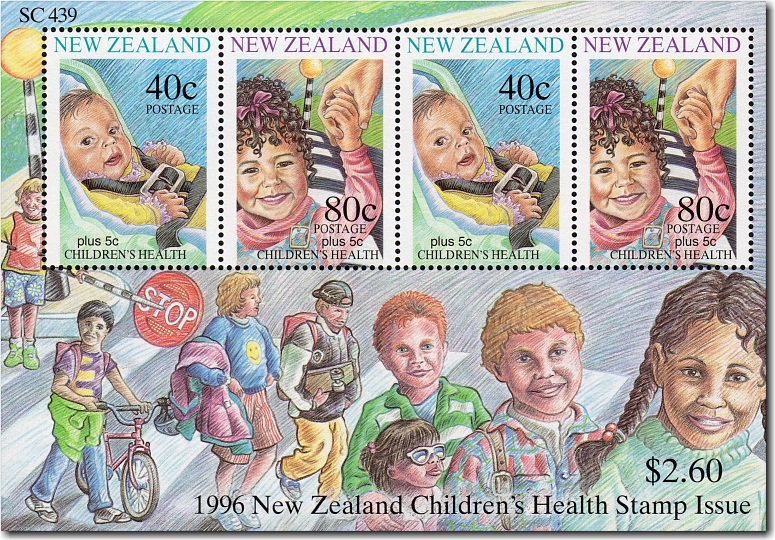 Cat.
Mint Unhinged
Fine Used
40c
Baby in Car Safety Seat
422a
$0.90
$0.90
(i) Baby in Car Safety Seat with Teddy Bear
422a1
$1,800.00
$2,340.00
80c
Little Girl On Crossing
422b
$1.60
$1.60
40c
Baby in Car Seat (Self Adhesive)
422c
$0.90
$0.90
(i) Baby in Car Safety Seat with Teddy Bear (Self Adhesive)
422c1
$4,050.00
$5,400.00
Set of 3 individual stamps
422d
$3.25
$3.25
$2.60
Miniature Sheet with two 40 cent and two 80 cent stamps (Surcharged for health)
422e
$5.40
$5.40
… Four Stamps : 40c (422a x 2), 80c (422b x 2)
(i) Baby in Car Safety Seat with Teddy Bear Miniature Sheet with two 40 cent and two 80 cent stamps (Surcharged for health)
422e1
$3,600.00
… Four Stamps : 40c (422a1 x 2), 80c (422b x 2)
$2.60
Miniature Sheet with two 40 cent and two 80 cent stamps (Surcharged for health) - Stampex Tauranga Overprint
422f
$135.00
$135.00
… Four Stamps : 40c (422a x 2), 80c (422b x 2)
First Day Cover - 5 June 1996
422g
$4.50
… 40c (422a), 80c (422b), 40c (422c)
Miniature Sheet First Day Cover - 5 June 1996
422h
$5.10
… $2.60 (422e)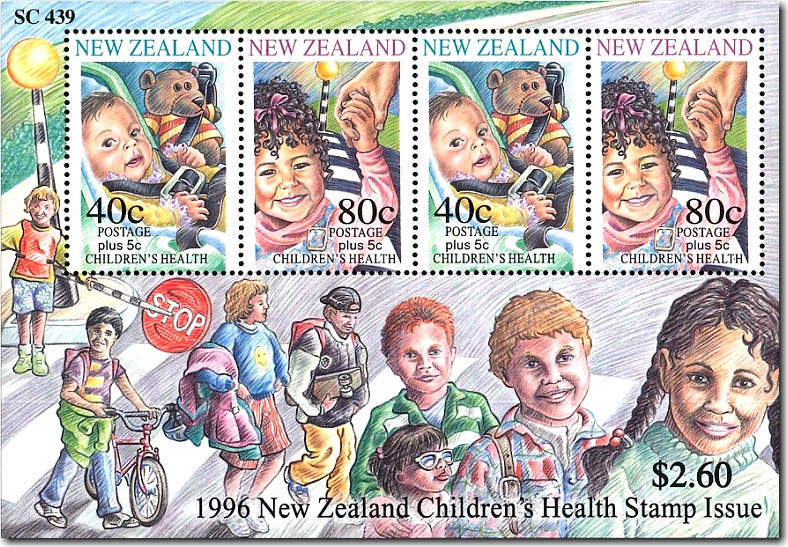 The 1996 Health Stamp focused on the importance of child restraint seats in cars. The 40 cent stamp showed a baby buckled into a child safety seat while the teddy bear beside is buckled into an adult seat belt.

It was not until publicity material was sent out that it was noticed that the baby seat should actually be facing the other way and the arrangement portrayed in the stamp would be very dangerous for the pictured baby. Children under six months old are required to be facing the rear when travelling in a car seat.

The stamps and miniature sheets were recalled and new stamps were printed in the week before the issue date. The new stamps had the teddy bear missing so that the public would not be at risk of mounting baby car seats facing forward. Inevitably though, around two thousand of the original stamps were sold to the public.

"It is my understanding that New Zealand Post did not distribute any of the incorrect health miniature sheets or the 1996 Capex Exhibition miniature sheet but some copies were distributed by the printers" - Joh Enschede.
Bibliography
The Postage Stamps of New Zealand Volume X
Edited by B.G. Vincent FRPSNZ
Published 2013 by The Royal Philatelic Society of New Zealand Incorporated (ISBN 978-0-9876534-3-7)
If you have any questions or comments please contact us - we'd love to hear from you.
This page was last updated on 27 Sep 2023
All content and images copyright © 2008 - 2023 StampsNZ