2000 Scenic Definitives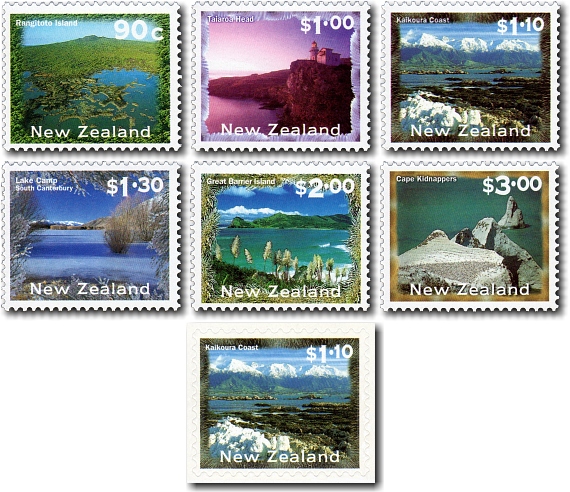 Cat.
Mint Unhinged
Fine Used
90c
Rangitoto Island (Issued in October)
501a
$1.60
$1.60
$1
Taiaroa Head Lighthouse / Red-Billed Gull
501b
$1.80
$1.80
$1.10
Kaikoura Coast / Seals
501c
$2.00
$2.00
$1.30
Lake Camp, South Canterbury (Issued in October)
501d
$3.50
$3.50
$2
Great Barrier Island / Toi Toi
501e
$3.60
$3.60
$3
Cape Kidnappers / Gannets
501f
$5.40
$5.40
Set of 6
501g
$17.00
$17.00
$1.10
Kaikoura Coast / Seals (Self Adhesive) - from the Air Post Booklet
501h
$2.70
$2.70
$5.50
Self Adhesive Booklet of five $1.10 stamps with Air Mail stickers
501i
$13.50
… Five Stamps : $1.10 (501h x 5)
First Day Cover - 6 March 2000
501j
$11.90
… Four Stamps : $1 (501b), $1.10 (501c), $2 (501e), $3 (501f)
First Day Cover - 3 April 2000
501k
$7.20
… $1.10 (501h)
First Day Cover - 2 October 2000
501l
$3.85
… Two Stamps : 90c (501a), $1.30 (501d)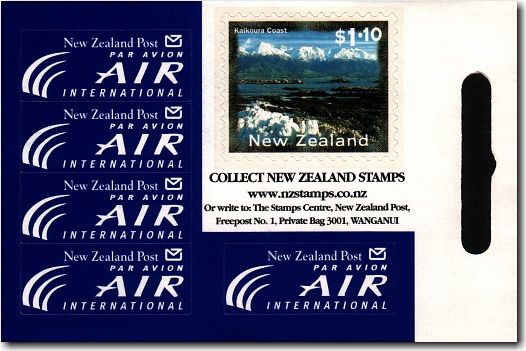 The $1.10 Kaikoura Coast stamp was issued in self adhesive form in the International Air Booklet which contained one pane of four stamps and one pane with the fifth stamp and five air mail stickers (as pictured).
Bibliography
The Postage Stamps of New Zealand Volume X
Edited by B.G. Vincent FRPSNZ
Published 2013 by The Royal Philatelic Society of New Zealand Incorporated (ISBN 978-0-9876534-3-7)
If you have any questions or comments please contact us - we'd love to hear from you.
Wishing you a Merry Christmas and a Happy and Prosperous New Year
This page was last updated on 04 Dec 2023
All content and images copyright © 2008 - 2023 StampsNZ