2002 Bronze Round Kiwi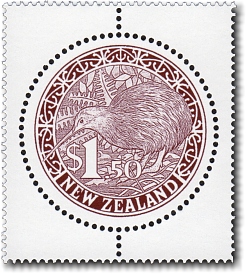 Cat.
Mint Unhinged
Fine Used
$1.50
Bronze Round Kiwi
538a
$2.70
$2.70
First Day Cover - 5 June 2002
538b
$4.50
… $1.50 (538a)
The one dollar fifty cent stamp features a Kiwi in it's natural environment recess printed in brown. The Maori motif around the border represents the flower of the Kowhai tree - which symbolises the continuous cycle of life.

This was the last printing of the original stamp design before the New Zealand Post fern logo was incorporated into the design for the 2011 Round Kiwi.
If you have any questions or comments please contact us - we'd love to hear from you.
This page was last updated on 29 Nov 2023
All content and images copyright © 2008 - 2023 StampsNZ