2008 The Chronicles of Narnia: Prince Caspian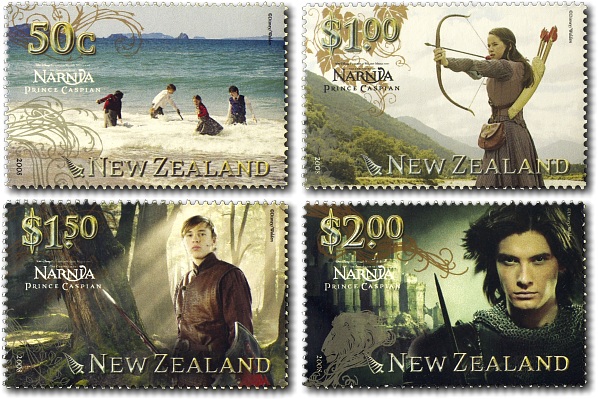 Cat.
Mint Unhinged
Fine Used
50c
The four Pevensie children / Hahei, Coromandel Peninsula
652a
$0.90
$0.90
$1
Queen Susan / Haast River Valley
652b
$1.80
$1.80
$1.50
High King Peter
652c
$2.70
$2.70
$2
Prince Caspian
652d
$3.60
$3.60
Set of 4 individual stamps
652e
$8.55
$8.55
Miniature Sheets Set of 4
652f
$12.60
$12.60
First Day Cover - 7 May 2008
652g
$9.90
… 50c (652a), $1 (652b), $1.50 (652c), $2 (652d)
Miniature Sheet First Day Cover Set of four - 7 May 2008
652h
$12.60
… Miniature Sheet (652f)
The Chronicles of Narnia: Prince Caspian is a film based on Prince Caspian, the second published novel in C.S. Lewis's Chronicles of Narnia. In this story, the four Pevensie children return to Narnia to aid Prince Caspian in his struggle for the throne against his corrupt uncle, King Miraz.

Filming began in February 2007 in Auckland. The scene where the Pevensies return to the ruined Cair Paravel was shot at Cathedral Cove. The filmmakers chose this location because it has a tunnel-like arch, which echoes the train tunnel the children go into before being summoned back into Narnia. However, unlike the first film, the majority of the film was shot in Central Europe because of the larger sets available.
Bibliography
The Postage Stamps of New Zealand Volume X
Edited by B.G. Vincent FRPSNZ
Published 2013 by The Royal Philatelic Society of New Zealand Incorporated (ISBN 978-0-9876534-3-7)
If you have any questions or comments please contact us - we'd love to hear from you.
This page was last updated on 21 Sep 2023
All content and images copyright © 2008 - 2023 StampsNZ