2008 Ross Dependency - 100th Anniversary of the British Antarctic Expedition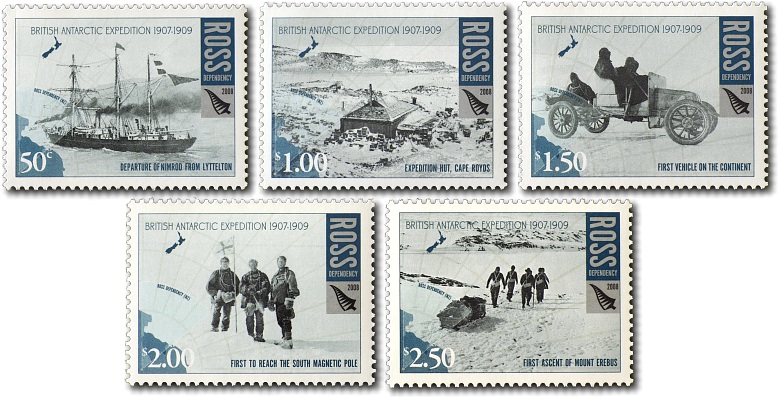 Cat.
Mint Unhinged
Fine Used
50c
Departure of Nimrod from Lyttelton / 1 January 1908
663a
$0.90
$0.90
$1
Pre-fabricated Expedition Base Hut / Cape Royds
663b
$1.80
$1.80
$1.50
First Vehicle on the Continent
663c
$2.70
$2.70
$2
First to reach the South Magnetic Pole / 16 January 1909
663d
$3.60
$3.60
$2.50
First ascent of Mount Erebus / 9 March 1908
663e
$4.50
$4.50
Set of 5
663f
$12.85
$12.85
First Day Cover - 5 November 2008
663g
$14.40
… Five Stamps : 50c (663a), $1 (663b), $1.50 (663c), $2 (663d), $2.50 (663e)
The British Antarctic Expedition 1907 - 1909, also known as the Nimrod Expedition, was the first of three expeditions to the Antarctic led by Ernest Shackleton. It was financed without governmental or institutional support and relied on private loans and individual contributions. Its ship, Nimrod, was a small, 40-year-old wooden sealer of 334 gross register tons, and the expedition's members generally lacked relevant experience. On New Year's Day 1908, Nimrod departed from the South Island port of Lyttelton.

Initially, the expedition's public profile was much lower than that of Scott's Discovery Expedition six years earlier. However, nationwide interest was aroused by the news of its achievements. The South Pole was not attained, but the expedition's southern march reached the farthest south latitude of 88 degrees 23 minutes, and the expedition could claim that it had got within one hundred miles of the Pole. This was by far the longest southern polar journey to that date.

During the expedition a separate group led by Welsh Australian geology professor Edgeworth David reached the estimated location of the South Magnetic Pole, and the first ascent was made of Mount Erebus, Ross Island's active volcano. The scientific team carried out extensive geological, zoological and meteorological work. Shackleton's transport arrangements, based on Manchurian ponies, motor traction and sled dogs, were innovations which were later copied by Scott for his ill-fated Terra Nova Expedition.

The expedition was a public triumph, although in the eyes of some of the London geographical establishment its successes were compromised because Shackleton had broken a promise made under duress to Scott that he would not base his winter quarters in or near McMurdo Sound. Ice conditions had ultimately forced Nimrod to land there.

On his return, Shackleton survived the Royal Geographical Society's skepticism about his achievements and received many public honours, including a knighthood from King Edward VII. Within three years his farthest south record had been surpassed, as first Amundsen and then Scott reached the South Pole. In his own moment of triumph Amundsen recognized: "Sir Ernest Shackleton's name will always be written in the annals of Antarctic exploration in letters of fire".
Bibliography
The Postage Stamps of New Zealand Volume X
Edited by B.G. Vincent FRPSNZ
Published 2013 by The Royal Philatelic Society of New Zealand Incorporated (ISBN 978-0-9876534-3-7)
If you have any questions or comments please contact us - we'd love to hear from you.
This page was last updated on 29 Nov 2023
All content and images copyright © 2008 - 2023 StampsNZ