2008 Sir Edmund Hillary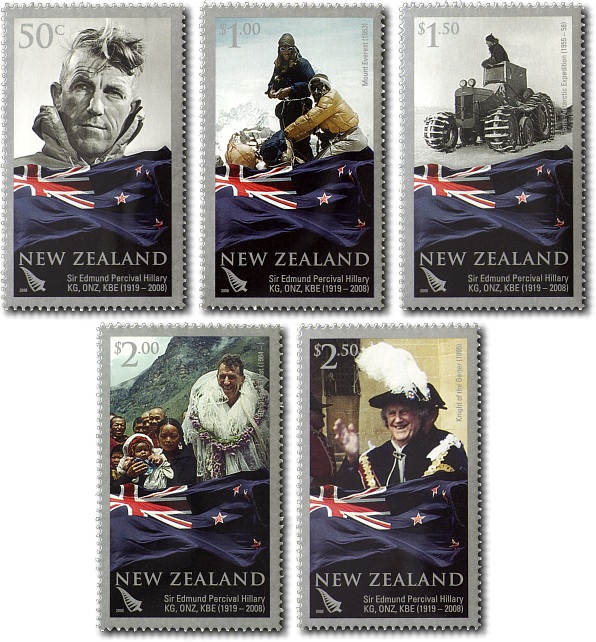 Cat.
Mint Unhinged
Fine Used
50c
Sir Edmund Hillary (Simplified)
661a
$0.90
$0.90
(i) Perf 14¾
661a1
$0.90
$0.90
(ii) Perf 14 from 2009 Timpex Stamp Exhibition miniature sheet
661a2
$1.55
$1
Conquest of Mount Everest (1953) (Simplified)
661b
$1.80
$1.80
(i) Perf 14¾
661b1
$1.80
$1.80
(ii) Perf 14 from 2009 Timpex Stamp Exhibition miniature sheet
661b2
$2.95
$1.50
British Trans-Antarctic Expedition (1958) - Perf 14¾
661c
$2.70
$2.70
$2
Himalayan Trust (1960 - ) - Perf 14¾
661d
$3.60
$3.60
$2.50
Knight of the Order of the Garter (1995) (Simplified)
661e
$4.50
$4.50
(i) Perf 14¾
661e1
$4.50
$4.50
(ii) Perf 14 from 2009 Timpex Stamp Exhibition miniature sheet
661e2
$7.40
Set of 5
661f
$12.85
$12.85
First Day Cover - 5 November 2008
661g
$14.40
… Five Stamps : 50c (661a1), $1 (661b1), $1.50 (661c), $2 (661d), $2.50 (661e1)
Sir Edmund Percival Hillary KG, ONZ, KBE (20th July 1919 - 11th January 2008) was a New Zealand mountaineer and explorer. On the 29th of May 1953 he and Sherpa mountaineer Tenzing Norgay became the first climbers known to have reached the summit of Mount Everest.

Hillary became interested in mountaineering while in secondary school, making his first major climb in 1939, reaching the summit of Mount Ollivier. He served in the RNZAF as a navigator during World War II. Before the successful expedition in 1953 to Everest, he had been part of a reconnaissance expedition to the mountain in 1951 and an unsuccessful attempt to climb Cho Oyu in 1952. As part of the Commonwealth Trans-Antarctic Expedition he reached the South Pole overland in 1958. He would later also travel to the North Pole.

Hillary was created a Knight Commander of the Order of the British Empire (KBE) on the 6th of June 1953; a member of the Order of New Zealand in 1987; and a Knight of the Order of the Garter on the 22nd of April 1995. He was also awarded the Polar Medal for his part in the Commonwealth Trans-Antarctic Expedition.

His favoured New Zealand charity was the Sir Edmund Hillary Outdoor Pursuits Centre of New Zealand of which he was Patron for 35 years. Hillary was particularly keen on the work this organisation did in introducing young New Zealanders to the outdoors in a very similar way to his first experience of a school trip to Mt Ruapehu at the age of 16.

Hillary spoke of his disdain for the attitudes displayed by many modern mountaineers. In particular he publicly criticized New Zealander Mark Inglis and 40 other climbers who, in various groups, left British climber David Sharp to die in May 2006: "I think the whole attitude towards climbing Mount Everest has become rather horrifying. The people just want to get to the top. They don't give a damn for anybody else who may be in distress and it doesn't impress me at all that they leave someone lying under a rock to die."

Following his ascent of Everest he devoted much of his life to improving the conditions and lives of the Sherpa people of Nepal through the Himalayan Trust, a non-profit organisation which he founded in 1960. Over four decades the organisation has helped to establish over thirty schools, two hospitals and twelve medical clinics. He was the Honorary President of the American Himalayan Foundation, a United States non-profit body that helps improve the ecology and living conditions in the Himalayas.

He is famously quoted as saying: "People do not decide to become extraordinary. They decide to accomplish extraordinary things."

The 50 cent, $1 and $2.50 stamps from this issue were included in the 2009 Timpex Stamp Exhibition miniature sheet with P14 perforation.
Bibliography
The Postage Stamps of New Zealand Volume X
Edited by B.G. Vincent FRPSNZ
Published 2013 by The Royal Philatelic Society of New Zealand Incorporated (ISBN 978-0-9876534-3-7)
If you have any questions or comments please contact us - we'd love to hear from you.
Wishing you a Merry Christmas and a Happy and Prosperous New Year
This page was last updated on 09 Dec 2023
All content and images copyright © 2008 - 2023 StampsNZ