2009 Auckland Harbour Bridge 50th Anniversary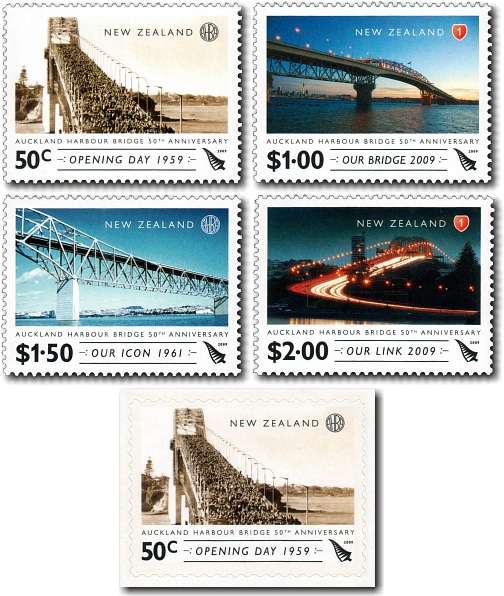 Cat.
Mint Unhinged
Fine Used
50c
Auckland Harbour Bridge Pedestrian Open Day / May 1959
673a
$0.90
$0.90
$1
Auckland Harbour Bridge at Dusk / Our Bridge 2009
673b
$1.80
$1.80
$1.50
Auckland Harbour Bridge Original Girder Structure / Our Icon 1961
673c
$2.70
$2.70
$2
Auckland Harbour Bridge Traffic at Night / Our Link 2009
673d
$3.60
$3.60
Set of 4 individual stamps
673e
$8.55
$8.55
50c
Auckland Harbour Bridge Pedestrian Open Day / May 1959 (Self Adhesive)
673f
$0.90
$0.90
First Day Cover - 1 May 2009
673g
$10.80
… 50c (673a), $1 (673b), $1.50 (673c), $2 (673d)
The Auckland Harbour Bridge is an eight-lane box truss motorway bridge over the Waitemata Harbour, joining Saint Mary's Bay in Auckland with Northcote in North Shore City. The bridge is part of State Highway 1 and is the second-longest road bridge in New Zealand. The main span is 43 meters above high tide to allow ships free access to the deepwater wharf at the Chelsea Sugar Refinery.

In the 1950s when bridge plans were finally realised, North Shore was still a very rural area with barely 50,000 people living there. Opening up the area unlocked the potential for further expansion of Auckland.

Based on the recommendations of the design team and the report of the 1946 Royal Commission, the bridge should have had five or six traffic lanes with the extra lanes intended to be reversed in direction in peak traffic, along with footpaths on both sides of the bridge. However, these features were dropped before construction started for cost reasons and the then government opted for a four lane bridge without footpaths.

The bridge took four years to build - with large steel girder sections partially pre-assembled and then floated into place on construction barges. One of the main spans was almost lost during stormy weather when the barge began to drift, but the steam engine tugboat William C Daldy eventually won a 36-hour tug-of-war against the high winds, consuming 40 tons of coal during the battle.

The bridge was completed three weeks ahead of schedule and was officially opened on the 30th of May 1959 by the Governor-General Lord Cobham. The 50 cent stamp shows an open day held in the week prior to opening where 106,000 people walked the length of the bridge.

By 1965 the rapid expansion of suburbs on the North Shore had increased annual use to around 10 million vehicles - three times the original forecast level and work began on adding two-lane box girder sections to each side of the bridge. Completed in 1969, the sections were manufactured by Ishikawajima-Harima Heavy Industries of Japan and were nicknamed the 'Nippon clip-ons' - attributed to anti-Japanese sentiment 20 years after the end of the Second World War. Not surprisingly, the costs of the additions were considerably higher than had the bridge been designed and built with the extra lanes from the start.

The Auckland Harbour Bridge has also appeared on stamps in the 1994 Emerging Years - The 1950s and 2009 Year of the Ox issues.

The 50 cent self adhesive stamp was produced solely for the New Zealand Transport Association and was only available to the public through New Zealand Post Stamps and Collectables.
Bibliography
The Postage Stamps of New Zealand Volume X
Edited by B.G. Vincent FRPSNZ
Published 2013 by The Royal Philatelic Society of New Zealand Incorporated (ISBN 978-0-9876534-3-7)
If you have any questions or comments please contact us - we'd love to hear from you.
This page was last updated on 27 Sep 2023
All content and images copyright © 2008 - 2023 StampsNZ