2009 Giants of New Zealand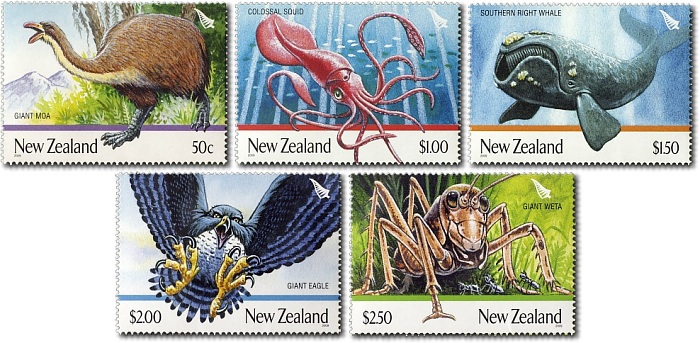 Cat.
Mint Unhinged
Fine Used
50c
Giant Moa
669a
$0.90
$0.90
$1
Colossal Squid
669b
$1.80
$1.80
$1.50
Southern Right Whale
669c
$2.70
$2.70
$2
Giant Eagle
669d
$3.60
$3.60
$2.50
Giant Weta
669e
$4.50
$4.50
Set of 5 individual stamps
669f
$12.85
$12.85
$7.50
Miniature Sheet with one 50 cent, one $1, one $1.50, one $2 and one $2.50 stamp
669g
$13.50
$13.50
... Five Stamps : 50c (669a), $1 (669b), $1.50 (669c), $2 (669d), $2.50 (669e)
$7.50
Limited Edition Miniature Sheet with one 50 cent, one $1, one $1.50, one $2 and one $2.50 stamp (2,000 numbered copies)
669h
$198.00
... Five Stamps : 50c (669a), $1 (669b), $1.50 (669c), $2 (669d), $2.50 (669e)
First Day Cover - 4 March 2009
669i
$14.40
... 50c (669a), $1 (669b), $1.50 (669c), $2 (669d), $2.50 (669e)
Miniature Sheet First Day Cover - 4 March 2009
669j
$15.30
... $7.50 (669g)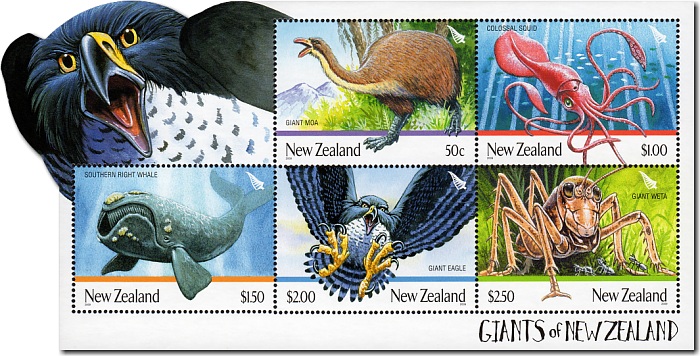 The miniature sheet features all five stamps in a uniquely shaped miniature sheet.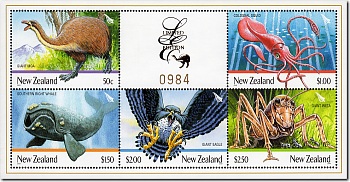 Two thousand numbered limited edition miniature sheets were also printed.
The resolution of some images on this page has been reduced to improve page load times on our web site. If you have any questions or comments please contact us - we'd love to hear from you.
This page was last updated on 18 Oct 2021
All content and images copyright © 2008 - 2021 StampsNZ