2010 Expo 2010 Shanghai China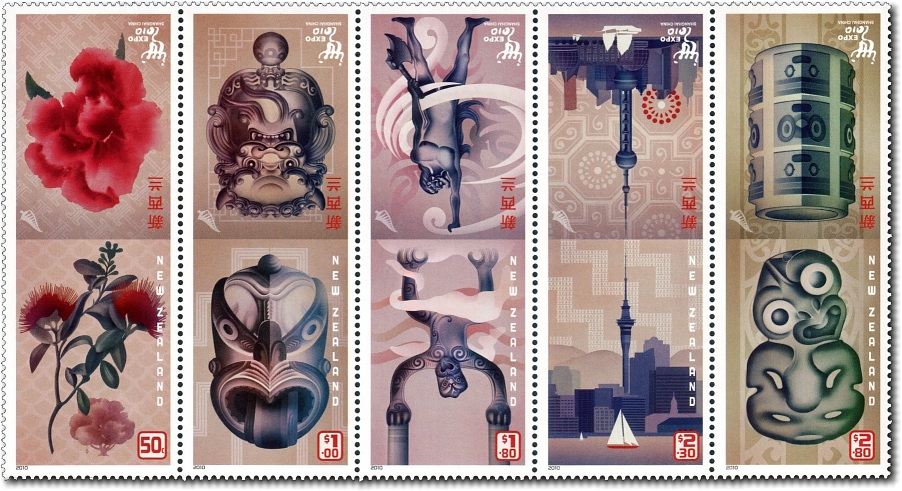 Cat.
Mint Unhinged
Fine Used
50c
Pohutukawa and Peony Flowers
691a
$0.90
$0.90
(i) Missing text on gum (from Miniature Sheet)
691a1
$0.90
$1
Kaitiaki and Fu Dog
691b
$1.80
$1.80
(i) Missing text on gum (from Miniature Sheet)
691b1
$1.80
$1.80
Tane and Pan Gu
691c
$3.25
$3.25
(i) Missing text on gum (from Miniature Sheet)
691c1
$3.25
$2.30
Auckland and Shanghai
691d
$4.15
$4.15
(i) Missing text on gum (from Miniature Sheet)
691d1
$4.15
$2.80
Heitiki and Cong
691e
$5.05
$5.05
(i) Missing text on gum (from Miniature Sheet)
691e1
$5.05
Set of 5
691f
$14.40
$14.40
Exhibition Se-tenant Block of one 50 cent, one $1, one $1.80, one $2.30 and one $2.80 stamp
691g
$15.10
$15.10
… Five Stamps : 50c (691a), $1 (691b), $1.80 (691c), $2.30 (691d), $2.80 (691e)
$8.40
Exhibition Miniature Sheet with one 50 cent, one $1, one $1.80, one $2.30 and one $2.80 stamp
691h
$15.10
$15.10
… Five Stamps : 50c (691a1), $1 (691b1), $1.80 (691c1), $2.30 (691d1), $2.80 (691e1)
First Day Cover - 30 April 2010
691i
$16.20
… Joined Block (691g)
These stamps were issued to coincide with the opening of 'Expo 2010 Shanghai China'. The theme of the Expo was 'Better City, Better Life' and New Zealand's pavilion follows this with 'Cities of Nature, Living between Land and Sky'.

The stamps draw parallels between New Zealand and Chinese culture and geography and feature illustrations inspired by some of the items in the New Zealand Pavilion. The stamps are double length and designed to be folded over the edge of special first day covers with two fronts and no back.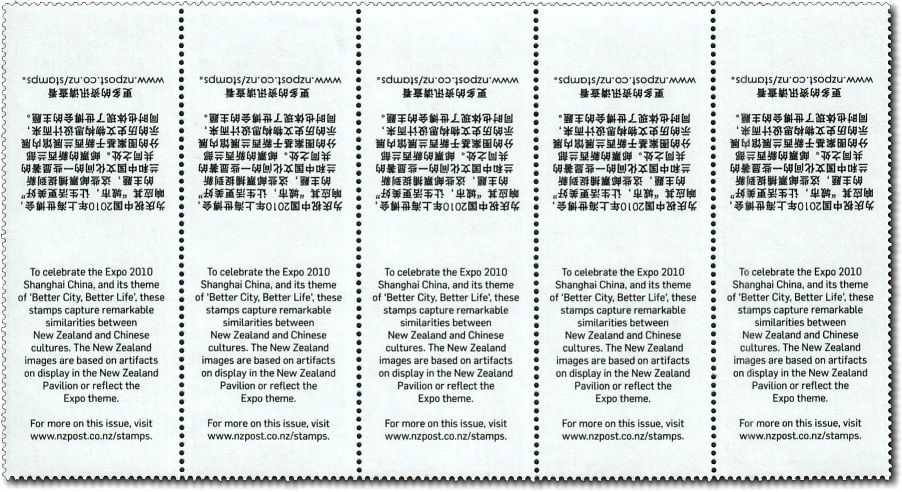 A special blurb is printed over the gum on the back of individual stamps and the joined block.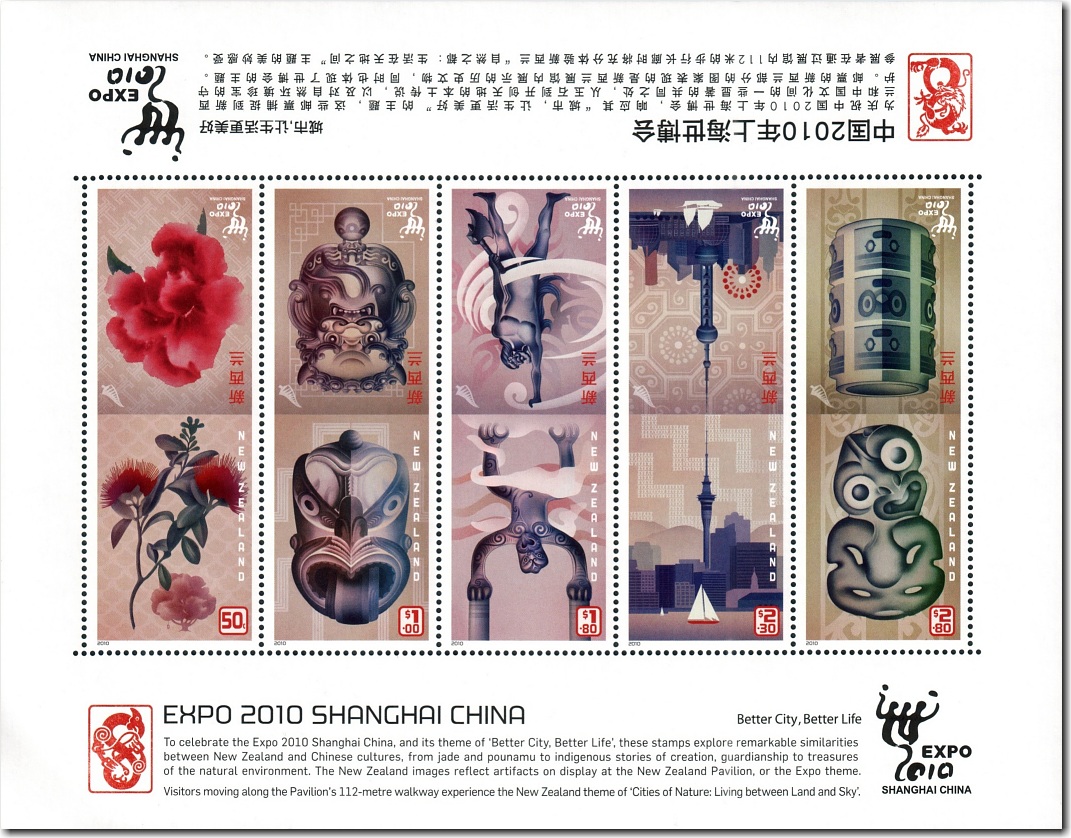 The miniature sheet contains all stamps in the set and was also designed to be folded in half for first day covers. The stamps in the miniature sheet to do not have text overprinted on the gum which gives rise to the two varieties for mint stamps. The same text, however, is printed on the front of the miniature sheet.

All loose stamps and stamps from the miniature sheet are Perf 14.
If you have any questions or comments please contact us - we'd love to hear from you.
Wishing you a Merry Christmas and a Happy and Prosperous New Year
This page was last updated on 04 Dec 2023
All content and images copyright © 2008 - 2023 StampsNZ