2011 Royal Wedding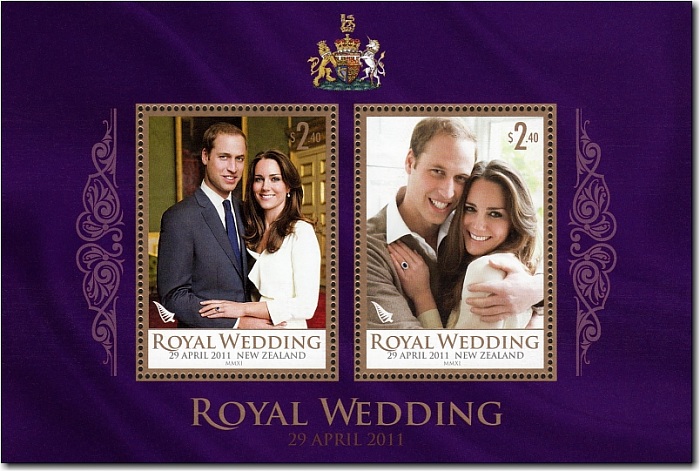 Cat.
Mint Unhinged
Fine Used
$2.40
Informal Engagement Portrait / Prince William of Wales and Catherine Middleton
709a
$4.50
$4.50
$2.40
Formal Engagement Portrait / Prince William of Wales and Catherine Middleton
709b
$4.50
$4.50
Set of 2
709c
$8.55
$8.55
Se-tenant Pair of two $2.40 stamps
709d
$9.00
$9.00
… Two Stamps : $2.40 (709a), $2.40 (709b)
$4.80
Miniature Sheet with two $2.40 stamps
709e
$10.80
$10.80
… Two Stamps : $2.40 (709a), $2.40 (709b)
$48
Sheetlet of twenty $2.40 stamps
709f
$86.40
$86.40
… Twenty Stamps : $2.40 (709a x 10), $2.40 (709b x 10)
First Day Cover - 23 March 2011
709g
$9.00
… Joined Pair (709d)
Miniature Sheet First Day Cover - 23 March 2011
709h
$10.80
… $4.80 (709e)
The Royal Wedding commemorative issue comprises two $2.40 stamps (the correct postage for a letter from New Zealand to the United Kingdom) featuring the official engagement portraits within a gold border.

A presentation pack including the miniature sheet, se-tenant block and first day cover was issued with an "in-depth commentary" on the Royal couple. Embarrassingly, this commentary stated that the Prince was born on the 21st of May 1982 when he was, in fact, born on June the 21st. Unsold copies of the pack were withdrawn and reprinted with the correct date.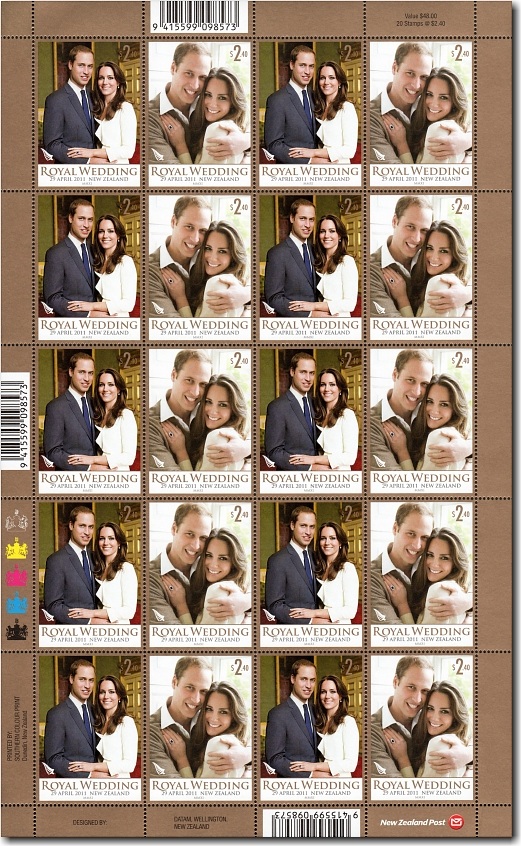 The stamps were issued in sheetlets of 20 stamps and a miniature sheet featuring both stamps with Prince William's Coat of Arms above the portraits.
If you have any questions or comments please contact us - we'd love to hear from you.
This page was last updated on 29 Nov 2023
All content and images copyright © 2008 - 2023 StampsNZ