2022 Scenic Definitives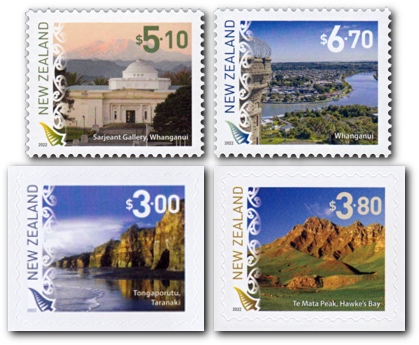 Cat.
Mint Unhinged
Fine Used
$5.10
Sarjeant Gallery, Whanganui
924a
$9.20
$9.20
$6.70
Whanganui
924b
$12.05
$12.05
Set of 2 individual stamps
924c
$20.20
$20.20
$3
Tongaporutu, Taranaki (Self Adhesive) from Booklet
924d
$5.40
$5.40
$3.80
Te Mata Peak, Hawkes Bay (Self Adhesive) from Booklet
924e
$6.85
$6.85
$3.80
Te Mata Peak, Hawkes Bay (Self Adhesive) from Coil
924f
$6.85
$6.85
$15
Self Adhesive Booklet of five $3 stamps
924g
$27.00
$27.00
… Five Stamps : $3 (924d x 5)
$19
Self Adhesive Booklet of five $3.80 stamps
924h
$32.30
$34.20
… Five Stamps : $3.80 (924e x 5)
First Day Cover - 1 June 2022
924i
$22.15
… $5.10 (924a), $6.70 (924b)
The $3 booklet stamp (923d) was first issued in the 2018 Scenic Definitives as 849g. The only difference between the two stamps is the year printed in the bottom left corner. The $3 self adhesive stamp was only available from booklets (which have the newer NZ Post logo).

The $3.80 stamp (923e) was first issued as a gummed stamp in the 2016 Scenic Definitives as 808f.
If you have any questions or comments please contact us - we'd love to hear from you.
This page was last updated on 27 Sep 2023
All content and images copyright © 2008 - 2023 StampsNZ