1989 World Stamp Expo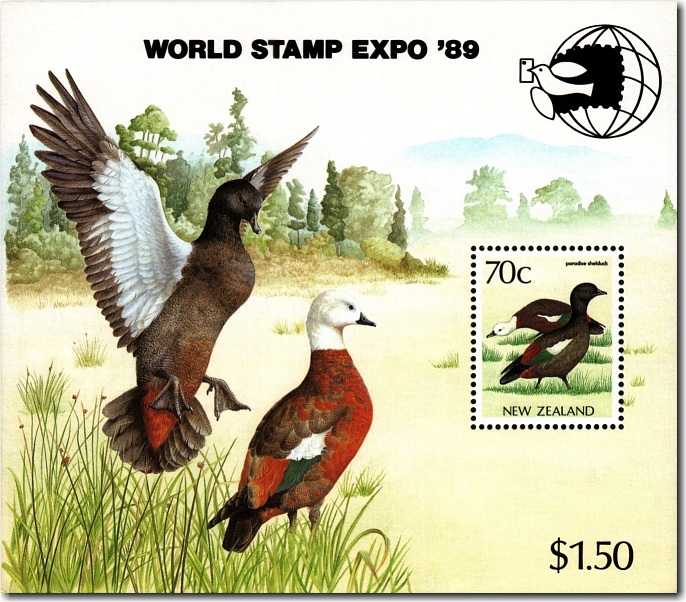 Cat.
Mint Unhinged
Fine Used
$1.50
World Stamp Expo '89 Exhibition Miniature Sheet with one 70 cent stamp
319a
$13.50
$13.50
… 1988 Native Bird Definitives 70c (300h)
$3.38
Health Exhibition Miniature Sheet with four 40 cent and two 80 cent stamps (Surcharged for health) - World Stamp Expo '89 Overprint
319b
$40.50
… Six Stamps : 1989 Health 40c (315a x 2), 40c (315b x 2), 80c (315c x 2)
Miniature Sheet First Day Cover - 17 November 1989
319c
$40.50
… $1.50 (319a)
Silk Miniature Sheet First Day Cover - 17 November 1989
319d
$67.50
… $1.50 (319a)
Health Overprint Miniature Sheet First Day Cover - 17 November 1989
319e
$67.50
… $3.38 (319b)
This miniature sheet commemorates the 1989 World Stamp Expo held in Washington DC, America from the 17th of November to the 3rd of December 1989.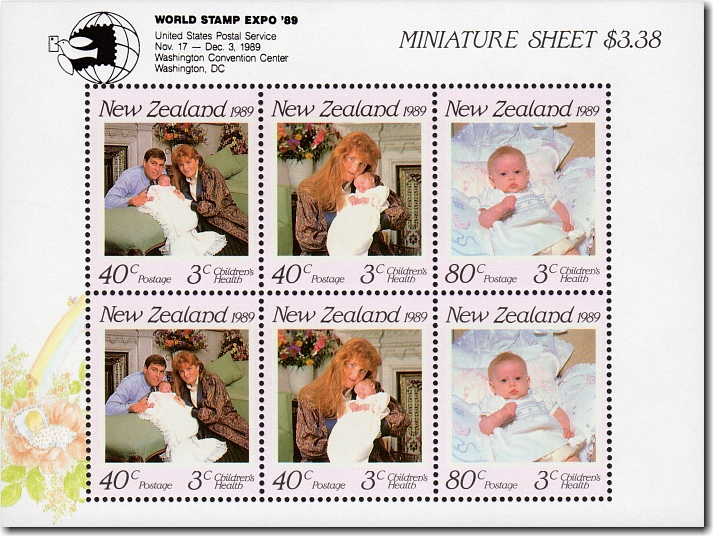 The 1989 Health miniature sheet was also overprinted to commemorate this show and was only available for sale from a stand at the show.
Bibliography
The Postage Stamps of New Zealand Volume VIII
Edited by B. G. Vincent FRPSNZ
Published 1998 by The Royal Philatelic Society of New Zealand Incorporated (ISSN 0-9597883-1-X)
If you have any questions or comments please contact us - we'd love to hear from you.
Wishing you a Merry Christmas and a Happy and Prosperous New Year
This page was last updated on 04 Dec 2023
All content and images copyright © 2008 - 2023 StampsNZ