Cat.
Mint Unhinged
Fine Used
5c
Mount Aorangi / Mount Cook
408a
$0.45
$0.45
10c
Champagne Pool / Waiotapu Thermal Reserve
408b
$0.45
$0.45
20c
Cape Reinga
408c
$0.45
$0.45
30c
Mackenzie Country / Central South Canterbury
408d
$0.55
$0.55
40c
Mitre Peak / Milford Sound (Issued October 1995) (Simplified)
408e
$0.70
$0.70
(i) Bright blue sky and green foliage / Perf 13½ x 13¾
408e1
$1.15
$1.15
(ii) Blue sky, yellow foliage frame and pink tinged clouds and peak / Perf 13½ x 13¾
408e2
$0.90
$0.90
(iii) Ultramarine or dull blue sky and a deep olive or deep ochre foliage frame / Perf 13½ x 13¾
408e3
$1.15
$1.15
(iv) Ultramarine sky and a deep olive foliage frame from the Southpex '96 Sheetlet / Perf 12
408e4
$1.70
$1.80
50c
Mount Ngauruhoe / Tongariro National Park
408f
$0.90
$0.90
60c
Lake Wanaka / Central Otago
408g
$1.10
$1.10
70c
Giant Kauri (Tane Mahuta) / Waipoua Forest Northland
408h
$1.35
$1.35
80c
Doubtful Sound / Fiordland National Park
408i
$1.45
$1.45
90c
Waitomo Limestone Cave / Waikato
408j
$1.80
$1.80
Set of 10 individual stamps
408k
$8.75
$8.75
First Day Cover - 2 October 1995
408m
$4.50
... 40c (408e1)
First Day Cover - 27 March 1996
408n
$5.40
... 5c (408a), 10c (408b), 20c (408c), 30c (408d), 50c (408f), 60c (408g), 70c (408h), 80c (408i), 90c (408j)
Some catalogues include the
1997 Scenic Definitive
and
2000 Scenic Definitives
stamps under this issue.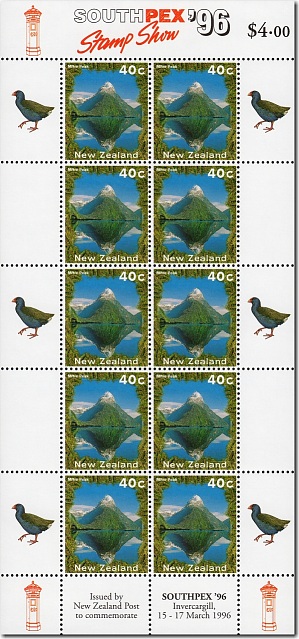 This sheetlet of ten 40c stamps was produced to commemorate Southpex '96 which was held in Invercargill on the 15th to 17th of March. The stamps from this sheetlet are the only source of the Perf 12 variety. This sheetlet is listed under
1996 Southpex Exhibition
.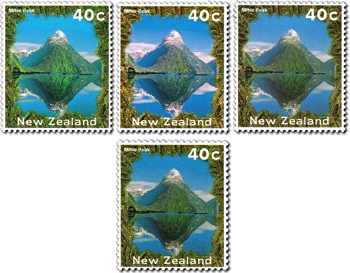 The 40 cent stamp was printed five times (not including the
1996 Southpex Exhibition
issue) between 1995 and 2003 and each printing has colour variances, some of which are subtle. Each printing has an incrementing number of Kiwis printed on the selvedge which is the primary method of identification if you have the full sheet.
If you don't, first check the perforations and separate out the Perf 12
1996 Southpex Exhibition
stamps (
408e4
- bottom middle in the photo above) from the remainder which are all Perf 13½ x 13¾.
Then separate out all stamps with slightly pink coloured clouds and snow. These are all
408e2
- they are from the 2 Kiwi printing in 2002 (top middle above).
Next separate out the original issue (no kiwi) stamps which have a lighter bright blue sky and greener frame (
408e1
- top left above).
The remaining stamps are all (
408e3
- top right above) and resemble the Southpex stamps colour-wise. They are from three different printings: the 1996 1 Kiwi issue which has ultramarine blue sky and a deep olive frame; the 2003 3 Kiwi issue which has a dull blue sky and deep ochre frame; and the 2003/2004 4 Kiwi issue which also has a dull blue sky coupled with a deep olive frame.