1998 Memorial Statues - Joint Issue with Turkey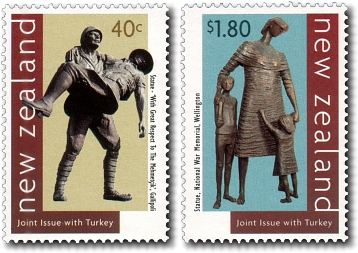 Cat.
Mint Unhinged
Fine Used
40c
Turkish Statue / With Great Respect to the Mehmetcik
463a
$0.70
$0.70
$1.80
New Zealand Statue / Mother with Children
463b
$3.25
$3.25
Set of 2
463c
$3.75
$3.75
First Day Cover - 18 March 1998
463d
$6.40
… Two Stamps : 40c (463a), $1.80 (463b)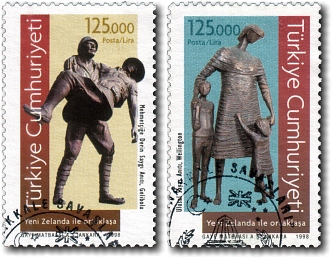 This joint New Zealand and Turkish stamp issue features two statues which commemorate the sacrifices made by both countries during the First World War Gallipoli campaign.
Bibliography
The Postage Stamps of New Zealand Volume X
Edited by B.G. Vincent FRPSNZ
Published 2013 by The Royal Philatelic Society of New Zealand Incorporated (ISBN 978-0-9876534-3-7)
If you have any questions or comments please contact us - we'd love to hear from you.
This page was last updated on 29 Nov 2023
All content and images copyright © 2008 - 2023 StampsNZ