2006 Her Majesty Queen Elizabeth II 80th Birthday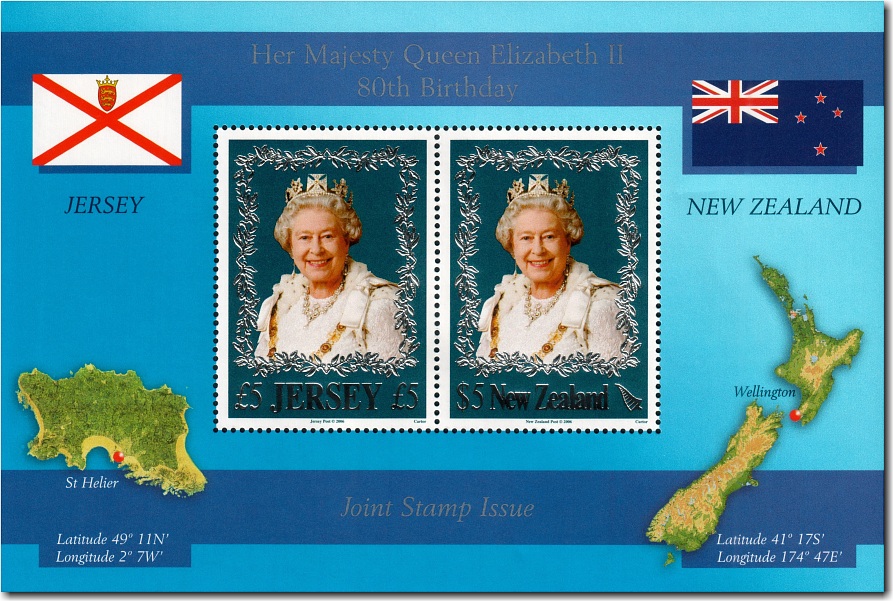 Cat.
Mint Unhinged
Fine Used
$5
Queen Elizabeth II (Simplified)
613a
$9.00
$9.00
(i) with green blue background
613a1
$9.90
$9.90
(ii) with Ultramarine blue background
613a2
$9.90
$9.90
$17.50
Miniature Sheet with one $5 stamp and five pound Jersey stamp - Joint Issue with Jersey (Simplified)
613b
$34.20
$45.00
… $5 (613a)
(i) with green blue background
613b1
$36.00
$46.80
… $5 (613a1)
(ii) with Ultramarine blue background
613b2
$36.00
$46.80
… $5 (613a2)
$20
Sheetlet of four $5 stamps
613c
$36.00
$34.00
… Four Stamps : $5 (613a x 4)
(i) Numbered Sheetlet of four $5 stamps (First 5000 Copies)
613c1
$45.00
$42.50
… Four Stamps : $5 (613a1 x 4)
First Day Cover - 21 April 2006
613d
$9.90
… $5 (613a1)
A joint issue miniature sheet commemorating the 80th birthday of Queen Elizabeth II was issued on her birthday - the 21st of April - by New Zealand Post and Jersey Post. The stamps feature a portrait of the Queen by photographer Julian Calder with a 99% silver foiled border and text.




The stamps were issued in two shades with the differences being most apparent in the shade of the background - green blue (left) and ultramarine blue (right). However, the colour differences also affect the shade of the text on the sheetlet margin and the skin tones have more of a red tinge on the ultramarine blue stamps. Page 157 of The Postage Stamps of New Zealand Volume X suggests that one shade originates from the miniature sheet and one from the sheetlet - however we have seen sheetlets in both shades.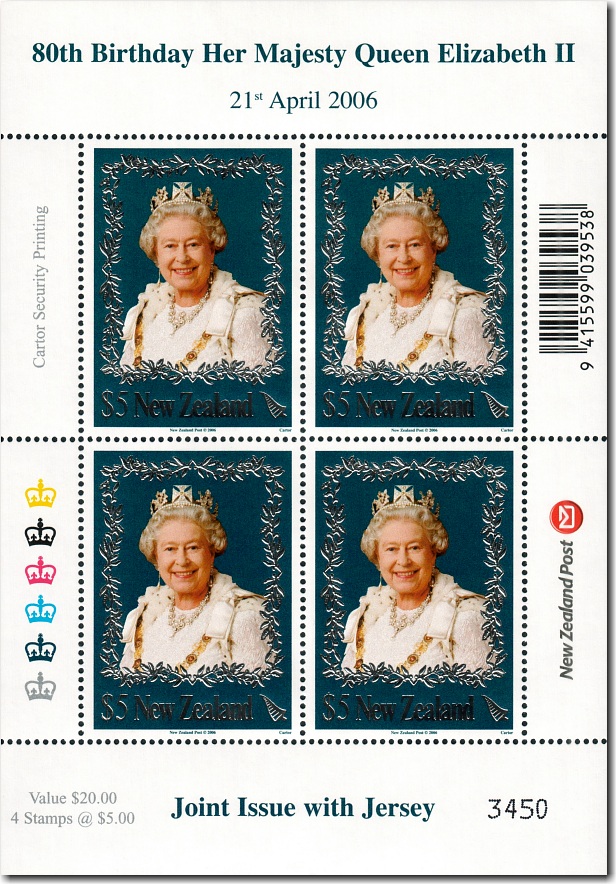 The stamps were issued in sheetlets of four stamps and the first 5000 sheetlets were numbered.
Bibliography
The Postage Stamps of New Zealand Volume X
Edited by B.G. Vincent FRPSNZ
Published 2013 by The Royal Philatelic Society of New Zealand Incorporated (ISBN 978-0-9876534-3-7)
If you have any questions or comments please contact us - we'd love to hear from you.
Wishing you a Merry Christmas and a Happy and Prosperous New Year
This page was last updated on 04 Dec 2023
All content and images copyright © 2008 - 2023 StampsNZ